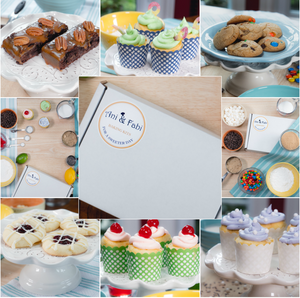 Subscription Baking Experience!
Regular price $69.99 Sale
Sign up for a monthly or bi-monthly package of sweetness and entertainment! Each shipment month you will receive:
Two Surprise Baking Kits in a Box
Easy to Follow Recipe Cards
An Entertaining Experience to Share
Pre-Measured High Quality Ingredients (No Unnecessary Additives)
Convenient Hassle-Free Experience
Arrives at Your Door Every First Thursday of Delivery Month
Free Delivery
Option to Skip or Cancel Anytime (Until Midnight the Sunday Before Shipping)
*Special Instructions*
Pair With: Much Enthusiasm, Family Time, Happiness...Really Just Goes Well With Anything!
---
Allergens Warning: Depending on the desserts of the month, they may contain Milk, Eggs, Wheat (Gluten), Almonds, Pecans and/or Soy. May also contain traces of Peanuts and other Tree Nuts. 
Please include a special note to inform us of known allergies, or message us at any point while subscribed.