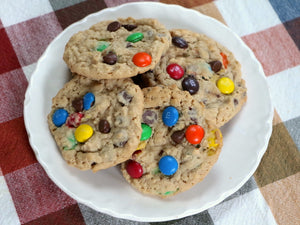 Softie Monster Cookies
Regular price $36.00 Sale
Celebrate the everyday with a cookies that tries harder than it needs to and goes above and beyond to make everyday moments all the more enjoyable and memorable.
A monster dessert with all the ingredients you know and love thrown into one cookie! And the perfect way to have all the fun of baking and be left with soft & chewy deliciousness!
Make 28 Monsterous Cookies in 26 Minutes
15mins Preparing | 11mins Baking
*Packages ship within one week of purchase*
Special Instructions
Pair Baking With: An Everyday, Good Company
Enjoy Cookies With: The Cookie Monster, A Great Movie, A Tuesday
What's in the box?
Ingredients: Sugar (Brown, Granulated), Flour Mix (with Oats, Baking Powder, Sea Salt), Creamy Peanut Butter, Vanilla Extract, M&Ms, Chocolate Chips
Equipment: Parchment Paper x2
What you need to supply?
Ingredients: 1/2 Cup Butter, 1 Large Eggs
Equipment: Cookie Pans x2, Mixer (or Whisk), Large Mixing Bowl, Rubber Spatula, Tablespoon or Ice Cream Scoop
---
Allergen Warning: When Complete, contains Milk, Eggs, Wheat (Gluten), Peanuts and Soy. May contain traces of other Nuts.