How it works
(Monthly & Bi-Monthly) Subscription
Can't live without dessert? Yup, we know the feeling! Sign up for our subscription, where at the start of the month we curate and deliver two surprise desserts!
And every (or every other) first Thursday, you get your baking kits!
Subscribe Now

Seasonal Shop
Not ready for the monthly commitment? We have a Seasonal Shop! From September to February, you can shop online or at local shows, and choose individual desserts to try.
If you like what we're offering (and we can promise you will) you're welcome to come back for more, and if you're up for it, we can make it "official" with a subscription!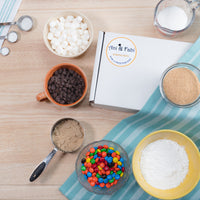 Doorstep Delivery
All the specialty ingredients, along with an easy to follow recipe card are delivered to your door!
All you do is have fun and bake in the convenience of your own home! NO shopping, NO measuring and NO excess ingredients gone to waste. It's a dream come true!
Just Add Eggs and Dairy
With everything else ready for you, all you need to do is add the required eggs, and dairy(standard or vegan)...since unfortunately we cannot ship these :( Then with your aprons on and your tools all set...
IT'S TIME TO BAKE!!! :)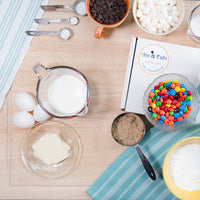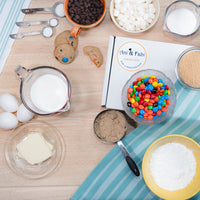 Bake & Enjoy!
With the recipe card in hand, you'll face the adventure of bringing the ingredients to life! Remember, this includes watching the oven bake :)
And at last the time arrives, where you get to enjoy the masterpiece you created! Share, enjoy, and celebrate!! ...and anxiously wait until next month